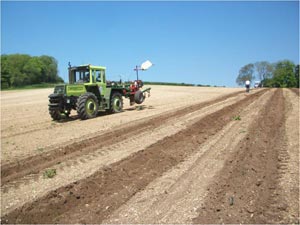 Wine myth: "grapevines must suffer in order to produce great wine." This is simply not true! Your vineyard and grapevines need planning, expertise, care and hard work for your project to be a success.
The UK is situated on the margins of viable viticulture. MVM can help you find the right vineyard site and identify the most suitable grapevine varieties, to create the product of which you can be truly proud.
About Us
Company founder Duncan McNeill trained in New Zealand. There he worked on and managed vineyards in the Central Otago region, before returning to Europe to take up a post working on a family run wine estate in the Rheinland Pfalz region of Germany.
In 2006 he returned with his wife Nadine, back to England to run a 180 acre vineyard estate in Essex.
Since then he has overseen the planting and establishment of hundreds of acres of vines across southern England. He now provides vine growing consultancy to some of England's largest vineyards whilst contract farming a large number of vineyards in Essex and Kent.